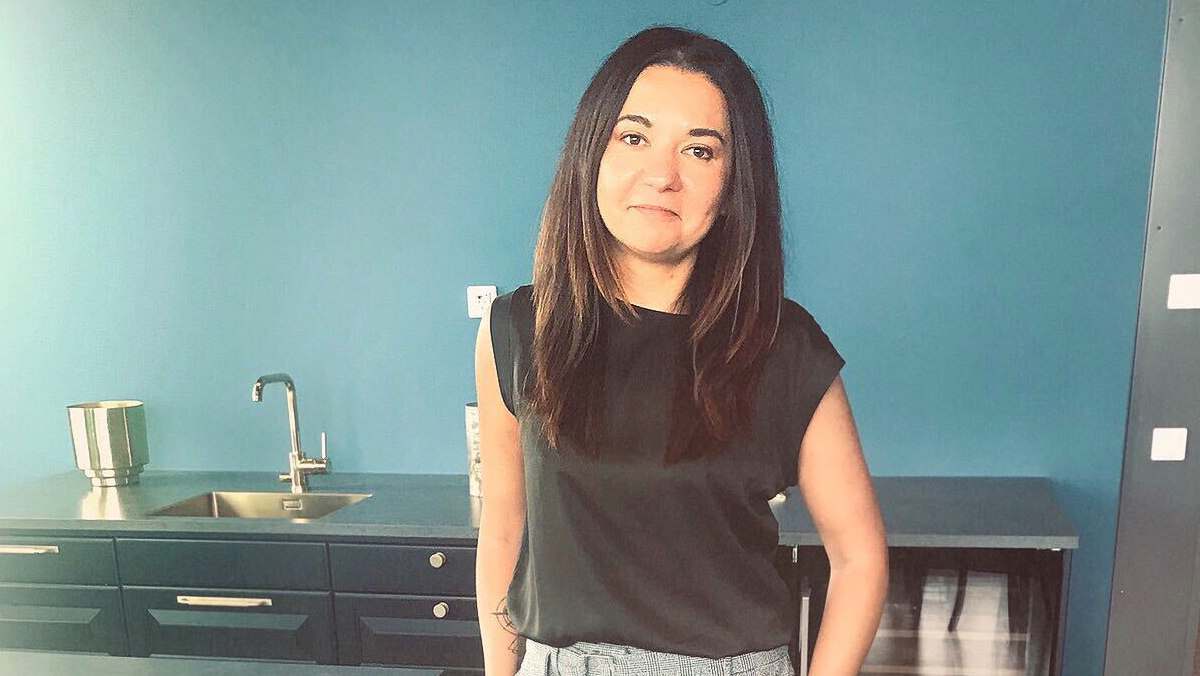 Last week we had the pleasure to have Kathryn Redgård as a guest speaker at our monthly ReeTalk. Kathryn works as a professional trouble maker at E.O.N supporting them with numerous growth hacks. Below you can read about her thoughts about using anxiety as a growth hack. Be sure to follow her on LinkedIn! We thank you Kate for taking the time to meet and sharing with us your valuable insights and learnings.
Using anxiety in growth hacking
I'm fascinated with the growth hacking method. I also think that when mastered, it qualifies as a super power. It's a super power because it is very efficient and it can be used for good and for bad. Using the cognitive biases to nudge, trigger and form new user habits comes with the risk turning evil.
I'm a growth hacker and I want to use this power for good. I also believe the more we understand how cognitive biases are used the less evil will come out of it. I share my knowledge of growth hacks so that we can all learn to avoid the dark side.
The FOMO
The social anxiety, the fear that we miss out on something important, the fear that we are not included in the important initiatives, the fear of regret. The Fear of Missing Out.
I get affected by this bias - a lot. Some of my colleagues comment that I am fearless, just speaking my mind, and throwing myself into things. I reply that I am scared, I am really scared of regretting not trying. I am an easy target for the FOMO tricks.
Since we all have a psychological need to feel connected to others, it's relatively easy to influence our actions by creating the feeling that we are missing out on something.
If you still think that you are completely logical and rational creature, just check out this book: Thinkig, fast and slow by Daniel Kahneman. A warning - I had a small existential crisis after reading it and I don't think I'm over it.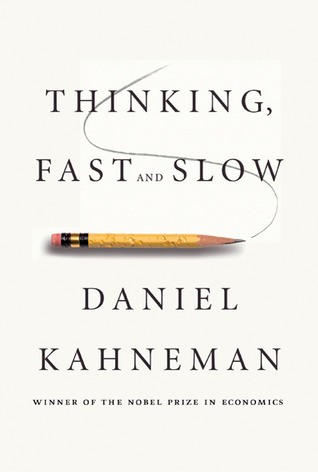 The case of brilliant and evil use of FOMO in B2B.
Did you know that if an e-mail is forwarded to you, the probability that you will open it and read it carefully is ridiculously higher than without the forward? How much higher? It really depends on your organisation. It's high enough that many have implemented this trick in their marketing strategy.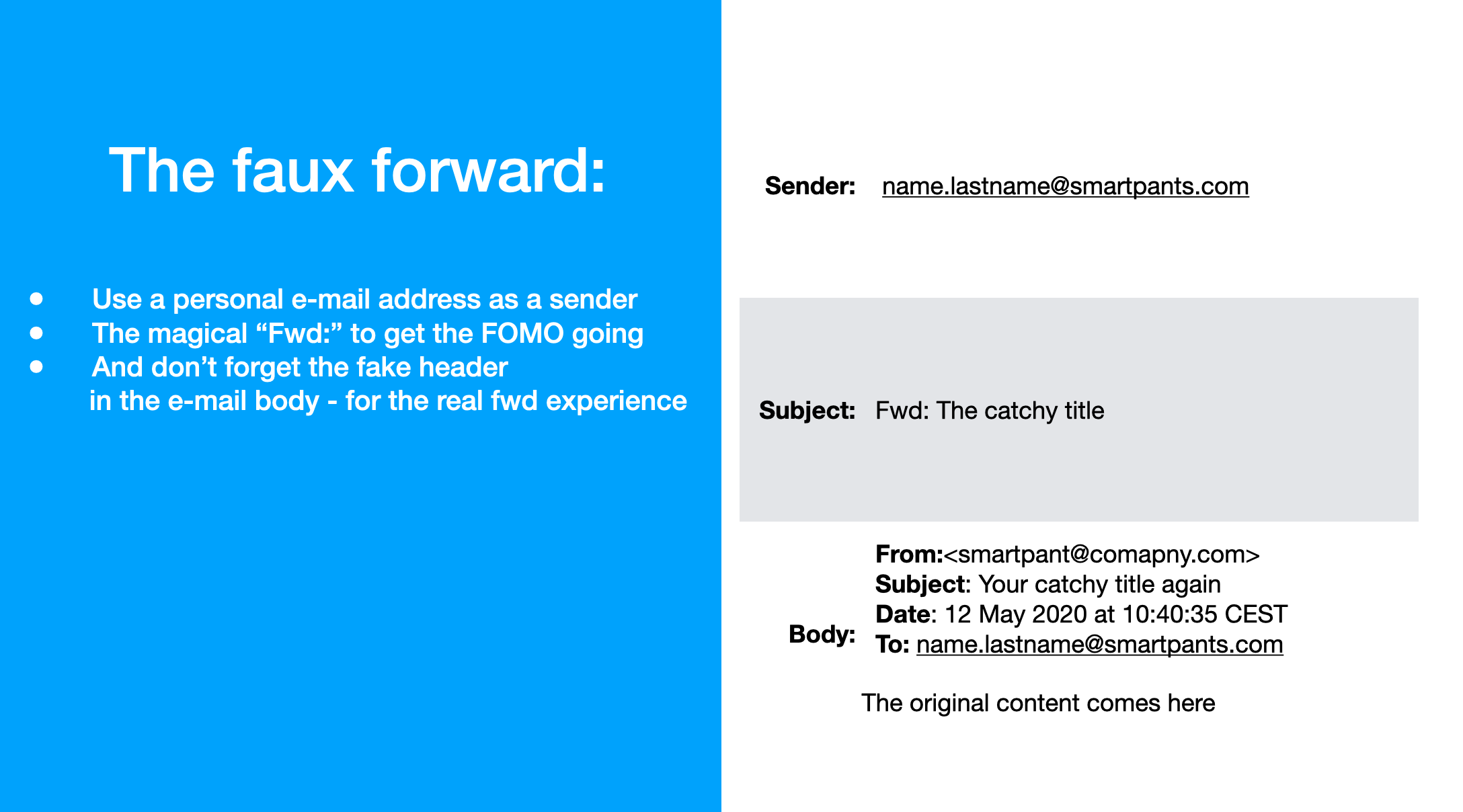 The e-mail title includes the magical FWD or RE.... and you open it. You need to read it, just to make sure that you're not missing out on something important, and then a new hook can be used in the body to get you genuinely interested.
Why do I think it's brilliant?
It's simple. You don't always have to use fancy tech to improve your KPIs. It's about knowing your audience.

Because it proves that Business to Business is actually Human to Human. Your are not selling your products to the humanised organisation. At the end of the day in any business we interact with some other person (for now). And tricks from B2C work in B2B.
Why is it evil?
Just because it works, it doesn't mean it's good. As I mentioned at the beginning, any super power can be used for good or for bad.
It's fake, no one really forwarded the e-mail.

The forward does not add value to your offer. it's just a trick

The trick capitalises on the problem many big & old organisations have. If your customers trigger more on the e-mail with FWD, it might mean they feel left out. The culture they work in made them fear of missing out. I will go as far as claiming that You are using someone's anxiety to improve your KPI.
Some other examples of FOMO being used.
FOMO is used in many marketing strategies and is also a foundation of some business models. It goes hand in hand with biases like: loss aversion, bandwagon effect and scarcity. We can find it all around us.
Timer and the limited time offer, you need to act now - or you will regret. Digital interfaces gave us the possibility of visualising the time passing quickly with the tiny timer to remind you - "You have only 5 minutes to complete this booking, if you miss it, you will never see ocean, ever again". Limited time offer - One of the key ingredients of Black Friday.

Members only, The club, only if you are in you will get the best offers, only the members can prebook the concert tickets. Example: smakbox, eventtribe

Show how many already have your product / show demand. "100 other people are looking at the same hotel room right now."
Using the FOMO for good ?
Can FOMO be used with positive effects? How do we know that our product or service is worth triggering some anxiety? I have some opinions on that, but I would prefer to hear what do you think ?